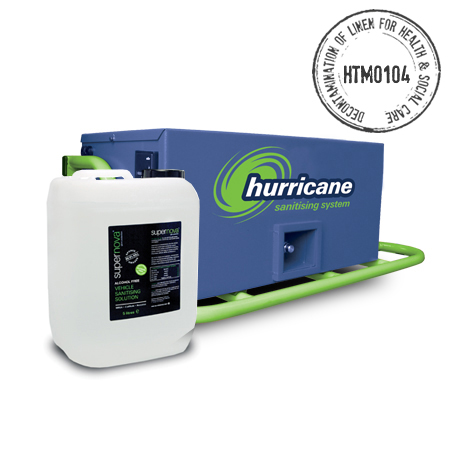 The Hurricane is a sanitising system that generates a force of air which transports finely atomised Supernova Vehicle Sanitising Solution across large areas on to surfaces and equipment. The Supernova solution settles on surfaces killing 99.9% of bacteria, spores, viruses and fungi on contact including Ebola, Clostridium difficile, MRSA and Norovirus.
The Hurricane is specifically designed for customers who transport critical loads and therefore have a requirement to provide a clean sanitised vehicle environment during transportation. Many of our customers are required to comply with the Choice Framework for local Policy and Procedures – Decontamination of Linen for Health and Social Care HTM0104 formerly CFPP 01-04 and the guidance for linen processors implementing BS EN 14065. The Hurricane Vehicle Sanitising System helps them meet a crucial element of those guidelines quickly and efficiently.
Laundry lorry's which transport clean and heavily contaminated hospital laundry within the same lorry at the same time, find the Hurricane Sanitising System an invaluable tool during their working day. Supporting the hygiene of linen management is vital, as nothing gets closer to the patient than the linen they lie on and gowns which they wear in to theatre. At the touch of a button the Hurricane Vehicle Sanitising System can sanitise the inside of a lorry in seconds, ensuring cross contamination between hospital loads can not happen.
• Dimensions: H 26cm x L 75cm x W 38cm
• Weight: 24.6kg
• Available in 12 volt dc, 24 volt dc or 240 volt ac
For more information please call the Quill International Group on +44 (0) 1332 864664